The Book Shack is now the Script'Morium!
ALL RECIPIENTS
If you receive free items, please pay it forward.  When you're finished with the item, do not sell it for profit.  Please remember to give it away to another homeschool family who needs or wants to use it! In order for this organization to work, people who donate MUST trust those on the receiving end.
Frequently Asked Questions (FAQs)
Where are you located?

We are beside Revive Free Will Church, 602 E Park St, Tecumseh, OK.
How can I get books?

Just come by while we're open!  BRING YOUR OWN BAGS. 
Do you have consumables?

Very rarely, we will get consumable books.  Often, we only get the non-consumables as donations.  Fortunately, this is often the cheapest thing to buy!
Do you have XYZ curriculum?

We have no idea what is on the shelves at any given time.  Come on by and have yourself a little treasure hunt!
Why don't you have "insert particular piece of curriculum here"?

We are a donation-only organization, meaning that we only have what has been donated to us.  Oftentimes, we do not get full sets of curriculum…only various pieces.
Why don't you allow us to sell items once we're done with them?

These items were donated to us to provide for families who needed them, and it's our mission to continue that kindness.  Please pay this kindness forward.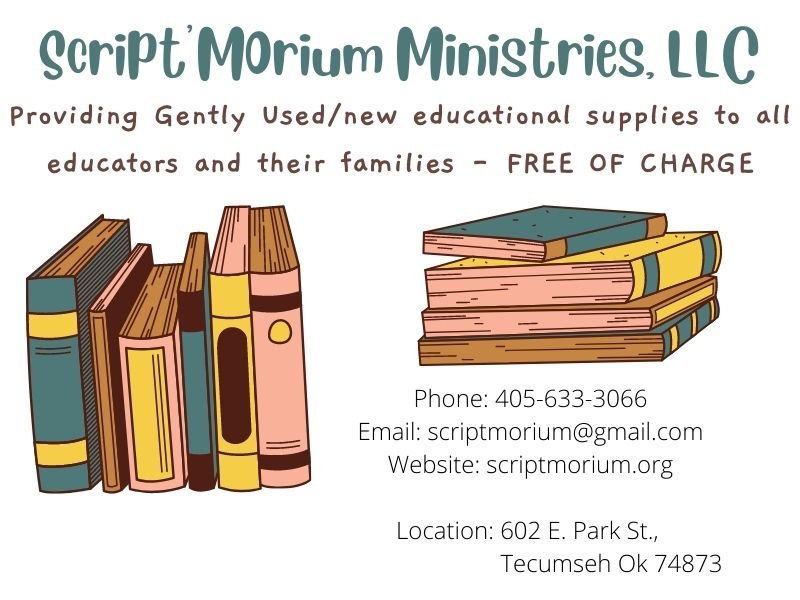 Hours of Operation
First &  Third Thursdays of the month – 11am-2pm
Wednesday evenings – 6-8pm
Fourth Fridays – 6-9pm
Third Saturdays – 10am-2pm
All other visits can be scheduled via messaging on Facebook.